Espaço Talassa travelers, in choosing the Azores, seek adventures outside the daily routine to know once more the flavor of time, to marvel at encounters with dolphins and whales and to better understand people whose lives are different from theirs.
Our need for quiet places creates a dilemma ... our presence can disturb the natural harmonies of the sea and its inhabitants... our presence can disrupt the majestic tranquility of the Azores. With this Code of Ethics, we propose to minimize such impact and to safeguard the islands' culture and natural beauty. By respecting those that we meet and through comprehension and protection of what we observe, we all participate not just in a successful voyage but also in development of a sustainable type of tourism here in the Azores.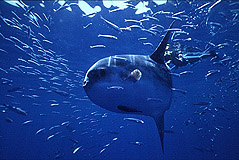 Before the voyage :
We will provide you the maximum amount of information about the animals that you will observe, specifically :
Available to you at our library are books and videos, plus internet access and the statistics and research we've accumulated since 1993.
You will experience a 20-minute program before every voyage, introducing you to the cetaceans of the Azorean sea, their habitat, communication, behavioral patterns etc.
Biologists will be available to answer your specific questions and give you their most recent information..
With the Animals :
"There they are!!" The behavior of the animals in our presence will establish the absolute priorities for our activities and length of stay with them.
Before nearing any group of animals we'll be certain of :
The species that we observe (each species reacts differently to the presence of boats)
The presence of juveniles in the group
The animals' state of activity (moving, eating, fleeing...)
Each observation presents a different set of circumstances, however the appropriate conduct in general is:
Approach the animal from a rear quarter, with reduced and constant velocity
Never approach closer than 50 meters
Never position the boat between calfs and adults
Allow only a few boats within a 150-meter range of the group
Group boats on the same side of the cetaceans, never encircling them.
Don't stay more than 10 minutes with the same animal
When departing, go slowly while within a 300-meter range of the animals
Never try to touch or feed an animal
In spite of the strong impressions that these encounters provide, the animals themselves are not always disposed to be friendly, due to the presence of their calves or if they are hunting, mating, feeding, etc. The skipper must also consider the state of the sea, the particular species being observed, individual swimming ability and other factors. Today it is prohibited to swim with the large cetaceans, although it is permitted, within certain conditions and safety regulations, to swim with 5 different species of dolphin. They are: common dolphin, atlantic spotted dolphin, striped dolphin, risso's dolphin and bottlenose dolphin In any case, only snorkeling is authorized; no scuba gear is permitted. We believe that gathering information and gaining knowledge contribute to the protection of animals. During research work or in image collection, it may be impossible to adhere totally to some of these rules. All such cases are exceptional situations and take place only when there are no other solutions. Disturbances of animals for research purposes are, in most cases, minimal.
Respect and Encounter :
Do not hastily judge people whose culture is marked by 150 years of whaling.
Try to say the daily pleasantries in Portugese ("obrigado", "bom dia", "como é que esta"...). This small effort is greatly appreciated and results in many smiles and new friends.
In the villages use adequate clothing. Don't change your clothing (bathing suits or diving suits) in public places, such as in the port or on docks, but only in the installations provided.
Don't photograph people without asking authorization.
Tips and gifts compensate for quality of service. They are not a requirement and should correspond to the economic level in the Azores where the median salary is about 600 euros per month.
Handcrafts and souvenirs :
Refuse to buy souvenirs made from animals we observe in the sea. In the Azores you may encounter sellers of objects in whale bone and ivory (without a registration number), dolphin teeth, turtle shells, sharks' teeth etc. The CITES (the international agreement which governs threatened species) forbids this type of commerce. The European Union, of which the Azores is a member, ratified this agreement (Decreto Regional No. 95/81 e Decreto-Lei No. 316/89). In this area Espaço Talassa has dual objectives :
Inform visitors about the dangers of commerce in ivory - the only element of the sperm whale with commercial value...therefore a selling point used by whale hunters.
Keep alive the local handicrafts with the use of alternative materials such as wood, stone and vegetable ivory.
Together, we can do more and better things :
Professional training for the Espaço Talassa team (general education or scientific courses)
Welcoming foreign students or providing scholarships for Portuguese students to work on our team
Membership in or support of environmental protection associations, such as Quercus
Educational work in Azorean schools, periods of observation and trips to sea at a cost-only basis for schools.
Let's speak of the future :
In the Azores, the animals we observe with such pleasure are not now victims of hunting. However, more subtle dangers - also created by man - continue to threaten them. Pollution and industrial over-fishing contribute to the desertification of the seas. It's necessary to fight these two threats, but we must also create aquatic reserves in which the cetaceans can live and reproduce in tranquility. To avoid disastrous excesses from over-development of eco-tourism, Espaço Talassa, in collaboration with the University of the Azores and the islands' Regional Government, has worked since 1992 to create regional regulations for whale watching. This legislation was drawn up and approved by the Regional Legislative Assembly in March 1999 outlining an acceptable code of conduct during cetacean observation. (Dec. Leg. Reg. 9/99/A de 22 de Março) We are convinced that these new regulations require creation of an independent structure: The Society for the Study and Protection of Marine Mammals of the Azores. This foundation will be the first step to create the Azores Ocean Sanctuary. The birth of this sanctuary in the middle of the Atlantic will mark a real victory for awareness about the incredible fragility of the largest mammal on our planet and the egually fragile humans that dominate it. The challenge has been made, but we have a long way to go, together, you the travellers and we the organizers of the voyage. Espaço Talassa will strive to live by this Code of Ethics which constitutes a philosophy of life. Adherence to this Code is a condition of participating in our activities. We request our guests to rely on the guide in all matters of safety and respect for man and animals. As you travel along our coasts, you also can help us by sharing your observations - positive or negative - and suggesting your ideas and solutions (
[email protected]
).
Finally, the question is :
Does tourism industry really can be a sustainable activity ?
Azorean law (in portuguese)