Casa do Flores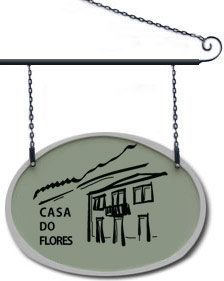 Located above the village of Lajes do Pico, «Casa do Flores» is about 200 meters from Espaço Talassa's whale watching base and the Whaler's Museum.
Great view of Portugal's highest mountain and the Atlantic ocean.
Rooms with a private bathroom, panoramic garden , solar heating, outdoor kitchen.
Bar and snack services from 11 am to 9 pm at "Whale'come ao Pico" hotel.
You will find also a small kitchen and a "barbecue", which are at your disposal.
Breakfast included.
This house was in the Sixties, without any doubt, one of the most middle-class of Lajes do Pico, and belonged to Mr. Flores who was the last whale processing factory manager.The "modern" architecture for the time, its localisation on the top of the village and the comfortable interiors (bathroom and electricity) made it a unique residence and the symbol of a gainful employment.The Seventies marked the whaling decline and Mr. Flores was unfortunately unable to benefit its home for a long time. SIBIL factory closed its door forever and Mr. Flores could not assume the house's costs anymore.
He immigrated to America, searching for a better economic comfort, never to return again. The house remained unoccupied a long time, and then was rented to family members or professors. It is abandoned since 2004, as Mr. Flores daughter decided to get rid of it, because her life is now in California, closer to her small children.
Tarifs
Price per night
01/01/18 to 20/04/18
22/09/18 to 31/12/18
21/04/18 to 06/07/18
25/08/18 to 21/09/18
07/07/18 to 24/08/18
Single room

€

30

€

36

€

49
Double room

€

36

€

49

€

69
Triple room

€

43

€

59

€

76
Quad room

€

59

€

65

€

81
Extra sea view

€

6

€

6

€

6
Extra half-board /day /person

€

15

€

15

€

25